Back to News
Mergers & Acquisitions
Recochem Leads Handful of Sponsors Into Mid Stages
|
Published: September 7th, 2023
An auction for H.I.G. Capital LLC aftermarket automotive chemical consumables platform Recochem Inc. is said to be approaching the second round with at least a handful of private equity firms in tow.
Check-in bids were due the first full week of August for Recochem, which makes and sells products including antifreeze, diesel exhaust fluid and fuel additives, three industry sources said.
Sponsors including American Industrial Partners LP, Odyssey Investment Partners LLC, Sentinel Capital Partners LLC and TJC LP, formerly the Jordan Co., were said to be circling the business, two of the sources said.
American Industrial Partners has owned automotive fluids supplier Reladyne LLC since it acquired the then-$110 million-in-Ebitda business from Audax Private Equity via an auction that was expected to yield a deal north of $1 billion. Sentinel and TJC also have experience in the automotive aftermarket supply industry, while Odyssey has held investments in adjacent industries such as aftermarket aerospace components and chemicals distribution.
Sentinel brought Holley Inc. (HLLY), a supplier of automotive parts and nitrous oxide injection systems, public in 2021 following a hold dating back to 2015; Odyssey currently owns chemicals and equipment distributor Aramsco; and TJC formed automotive component platform Agility Global Technologies LLC in August 2019.
Since check-in bids, Odyssey may be less aggressively pursuing the process, said one of the sources, who cautioned that there may be one or two other private equity parties engaged as the late stages draw near.
It's also the second time the market is getting a look at Recochem in recent years, after H.I.G. previously hired Harris Williams & Co. to do a very limited, early market test of the business about three years after it purchased the asset. H.I.G. acquired Recochem from Swander Pace Capital LLC in September 2018 for an undisclosed sum.
Editor's note: The original version of this article, including advisers and other details, was published earlier on The Deal's premium subscription website. For access, log in to TheDeal.com or use the form below to request a free trial.
This Content is Only for The Deal Subscribers
The Deal provides actionable, intraday coverage of mergers, acquisitions and all other changes in corporate control to institutional investors, private equity, hedge funds and the firms that serve them.
If you're already a subscriber, log in to view this article here.
More From Mergers & Acquisitions
Mergers & Acquisitions
By Tom Terrarosa
|
Published: September 20th, 2023
The company is looking to sell its Helmitin business, The Deal has learned.
Mergers & Acquisitions
By The Deal Contributors
|
Published: September 11th, 2023
Baker McKenzie's Lawrence Lee and Coinbase's Victoria Wong discuss how a volatile market and intensifying regulatory landscape is affecting M&A activity within a fast-growing cryptocurrency sector.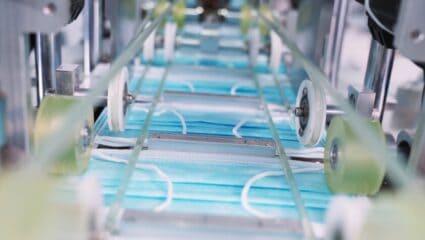 Mergers & Acquisitions
By The Deal Staff
|
Published: September 8th, 2023
The manufacturer of plastics packaging and engineered materials has launched a strategic review of its nonwoven fabrics business, which The Deal revealed it was considering selling in July.