Back to News
Activism
Activist Investing Today: Harvard's Roe Talks Activists and Short-Term Thinking
|
Published: January 22nd, 2021
The high-profile law professor told The Deal that activist hedge funds should not be blamed for cuts in research and development at U.S. corporations.
Activist funds face an uphill effort getting the votes they need to create change.
That's the view of Mark Roe, professor of Law at Harvard Law School. Roe spoke with The Deal for its Activist Investing Today podcast about why he thinks activist hedge funds shouldn't be blamed for short-term thinking.
"They [activists] have to have a really persuasive explanation for why something should change in their target company, enough so that index funds, pension funds and others, who initially are inclined to favor management, back their efforts," Roe said.
In a wide-ranging conversation, Roe suggested that there is a widespread, possible misperception that the public stock markets are particularly short term, with hikes in buybacks and cuts in research creating problems in corporate America. However, Roe argues there is mixed data on the subject. He points out that capital expenditures are down everywhere in the developed world, but less so in the U.S. "There is something else going on," he said. "Activist engagements are up over the past 10- or 15 years. R&D is up significantly over the past 10 or 15 years."
Roe reviews the concept of so-called "loyalty shares," which give investors more votes the longer they hold shares. The approach, known as time-phased voting, has long been common in France.
"The experience in Europe seems to be that the loyalty shares don't promote long-termism, but they do facilitate continuing control by founders over a long period of time," Roe said. "Speaking of activists, the most immediate impact is that activists would have a lower percentage of the vote because they haven't held shares for two years prior to their campaign typically."
Here's the podcast:
More podcasts from The Deal are available on iTunes, Spotify and on TheDeal.com.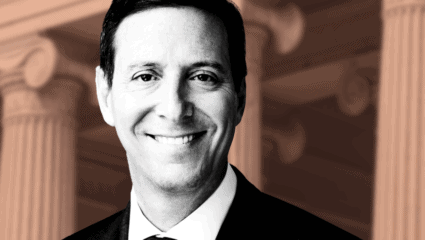 Activism
By Tom Terrarosa
|
Published: October 1st, 2021
The powerhouse corporate attorney handed out some advice to companies, ESG investors and the broader investment community at The Deal's Corporate Governance 2021 conference.
Activism
By Ronald Orol
|
Published: October 1st, 2021
The activist investor talked about his concerns regarding KKR's infusion into the cloud content management company.
Activism
By Ronald Orol
|
Published: September 20th, 2021
Duncan Herrington discusses proxy advisers and corporate director selection efforts following ESG activist Engine No. 1's big win at Exxon Mobil.