Back to News
Mergers & Acquisitions
Holland & Knight's Hill Talks Busy First Half
|
Published: August 9th, 2023
Holland & Knight partner Brent Hill discusses deal activity in the first six months of 2023.
The first half of 2023 was a stellar one for Holland & Knight LLP, which clinched the No. 3 spot on The Deal's private equity league table for law firms.
Holland & Knight, whose merger with Waller Lansden Dortch & Davis LLP took effect March 1, advised on 108 PE transactions in the first six months of the year, according to data from The Deal.
Brent Hill, a Holland & Knight partner who leads the healthcare and life sciences group, attributed the firm's deal flow mainly to its focus on the middle market and its deep expertise in sectors "that have a large volume of middle-market transactions."
The combination with Waller gave Holland & Knight increased capabilities in healthcare, well as in private equity, financial services, real estate and litigation. As of March, the merged entity had nearly 2,000 attorneys in 34 offices in the U.S. and abroad.
Hill, who joined Holland & Knight through the merger, said 2022 was a good year for both firms pre-combination.
While there was a slowdown in M&A activity starting the last quarter of 2022, he said middle-market deals weren't affected as much by the slowdown due to less reliance on bank financing.
"We have seen transactions routinely funded this year with a purchase price consisting of as little as 20% to 25% cash and the remaining portion of the purchase price funded with a combination of rollover equity and seller financing," Hill said.
The physician practice management space has been an active area for deals, with urology, cardiology and dermatology among the hot areas, Hill noted.
Other segments within healthcare that are active for dealmaking are the med spa space and the value-based care industry, he said.
In the healthcare sector, Holland & Knight has advised firms including dental management services organization Lightwave Dental Management LLC on the majority investment in the company by Goldberg Lindsay & Co. LLC in partnership with Lightwave founder and CEO Justin Jory in a transaction that marked an exit by Alpine Investors LP.
It also recently advised Lee Equity Partners LLC-backed urology practice management group Solaris Health Holdings on its acquisition of LowCountry Urology Clinics and VSS Capital Partners on its investment in Olympus Cosmetic Group, a newly formed platform that provides support services for cosmetic practices.
In 2023, Holland & Knight also advised Avista Capital Partners LP-backed medical imaging equipment, parts, repair and service company Probo Medical LLC on its purchase of Ultra Select Medical LLC, Creative Foam Corp.'s MRI coil repair operation and National Ultrasound Inc.
Besides advising on deals, Holland & Knight offers a program called HK Deal Flow, which sources deal leads through the network of Holland & Knight's lawyers, as well as investment bankers and other deal intermediaries, and matches leads with clients and other parties.
Over the past five years, the program has generated 1,300 deal leads for clients, Hill said.
More From Mergers & Acquisitions
Mergers & Acquisitions
By Tom Terrarosa
|
Published: September 20th, 2023
The company is looking to sell its Helmitin business, The Deal has learned.
Mergers & Acquisitions
By The Deal Contributors
|
Published: September 11th, 2023
Baker McKenzie's Lawrence Lee and Coinbase's Victoria Wong discuss how a volatile market and intensifying regulatory landscape is affecting M&A activity within a fast-growing cryptocurrency sector.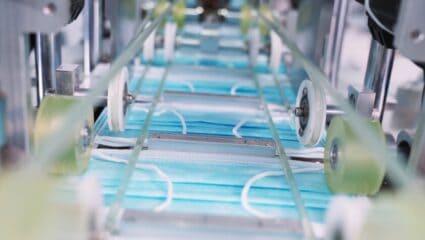 Mergers & Acquisitions
By The Deal Staff
|
Published: September 8th, 2023
The manufacturer of plastics packaging and engineered materials has launched a strategic review of its nonwoven fabrics business, which The Deal revealed it was considering selling in July.