Back to News
Mergers & Acquisitions
Next Level of Video Game Dealmaking in Sight
|
Published: August 15th, 2023
If Microsoft can close its purchase of Activision, other game makers — or even large tech platforms — could target studios.
If Microsoft Corp. (MSFT) can navigate the U.K.'s Competition and Markets Authority continued review of its Activision Blizzard Inc. (ATVI) acquisition, gaming M&A will likely jump to the next level.
Not only would the closing put rivals Take-Two Interactive Software Inc. (TTWO) and Sony Interactive Entertainment LLC on notice. Tech titans such as Meta Platforms Inc. (META), Amazon.com Inc. (AMZN), Netflix Inc. (NFLX), Apple Inc. (AAPL) and Alphabet Inc. (GOOGL) would have to evaluate their aspirations in video games.
"Sony is probably the most likely company to go looking for a big publisher," Neil Barbour of S&P Global Inc.'s (SPGI) Kagan said in an email. "But Meta, Amazon, Netflix, Apple and Alphabet are all in play here to some degree. And maybe in roughly that order of probability."
Microsoft scored a win on July 11, when a federal court in California denied the Federal Trade Commission's request for a preliminary injunction — essentially allowing the deal parties to proceed.
Wildcards remain, however. For one, the FTC has appealed the ruling. Additionally, the FTC and Department of Justice recently proposed changes to federal merger guidelines that could create tougher rules for tech deals, including the purchase of startups and vertical deals. Of course, Microsoft is still negotiating with London regulators.
The California ruling increases Microsoft's odds of closing the deal, however, and could give other studios greater confidence that they can make acquisitions.
Netflix declined to comment. Sony, Meta, Amazon, Apple and Alphabet didn't immediately respond to queries.
Gaming Deal Flow
Even before the California decision, gaming transactions were on the upswing. Video game M&A topped $6 billion in the second quarter, S&P reports, which was the highest quarterly total since the Microsoft announced the $68.7 billion purchase of Activision in the first quarter of 2022.
The top Q2 deals were in mobile gaming. Savvy Gaming Group, funded by Saudi Arabia's Public Investment Fund, agreed to pay $4.9 billion for "Scrabble Go" publisher Scopely Inc. Sega Sammy Holdings Inc. said it would buy "Angry Birds" maker Rovio Entertainment Oyj for about $775 million.
Console gaming M&A also showed life, however, with Tencent Holdings Ltd. and Capcom Groupe SAS making purchases.
"Tencent's recent play for Techland and Capcom's acquisition of support studio Swordcanes could be the start of a trend back toward M&A in the console gaming space," Barbour said. Techland SA makes zombie genre titles such as "Dying Light" while Swordcanes Studio Co. Ltd. is a gaming graphics studio that has worked on Capcom's "Street Fighter" fighting-game franchise.
"Interestingly, we've seen the enterprise value of big companies in the console space rising over the past quarter," Barbour added, pointing to Electronic Arts, Take-Two, Ubisoft Entertainment SA and Capcom.
One explanation, the analyst said, is that PlayStation 5, or PS5, consoles are finally making their way to retailers after two years of supply constraints. Aside from sparking a melee in New York City's Union Square, the PS5's arrival means game companies can start releasing products for the new consoles with some confidence. "Remember, publishers are charging $10 more per unit for games released on PS5 than they were for games released on PS4," Barbour noted.
Bulge-bracket deal expectations may also be a factor.
"I suspect the growing value of console publishers reflects the chance that another big tech company with exposure to the gaming space might want to beef up their portfolio to be competitive with a potentially stronger Xbox platform," Barbour said.
Private Arcade
The video game landscape is filled with private studios, many of which could be among the next wave of targets…
Editor's note: The original version of this article, including a full list of potential targets in the gaming space, was published on The Deal's premium subscription website on Aug. 7. For access, log in to TheDeal.com or use the form below to request a free trial.
This Content is Only for The Deal Subscribers
The Deal provides actionable, intraday coverage of mergers, acquisitions and all other changes in corporate control to institutional investors, private equity, hedge funds and the firms that serve them.
If you're already a subscriber, log in to view this article here.
More From Mergers & Acquisitions
Mergers & Acquisitions
By Tom Terrarosa
|
Published: September 20th, 2023
The company is looking to sell its Helmitin business, The Deal has learned.
Mergers & Acquisitions
By The Deal Contributors
|
Published: September 11th, 2023
Baker McKenzie's Lawrence Lee and Coinbase's Victoria Wong discuss how a volatile market and intensifying regulatory landscape is affecting M&A activity within a fast-growing cryptocurrency sector.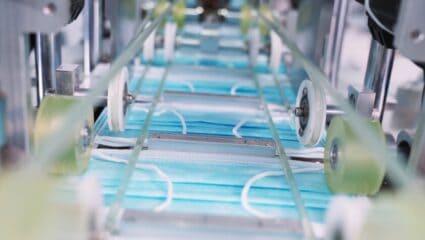 Mergers & Acquisitions
By The Deal Staff
|
Published: September 8th, 2023
The manufacturer of plastics packaging and engineered materials has launched a strategic review of its nonwoven fabrics business, which The Deal revealed it was considering selling in July.