Back to News
Mergers & Acquisitions
Stoplight Accelerates SmartBear APIs, M&A
|
Published: September 7th, 2023
With the acquisition of Stoplight Inc., SmartBear Software Inc. builds on its portfolio of technology for application programming interfaces, or APIs, a critical part of software development that lets applications talk to each other.
"Most companies kind of woke up one day and realized we have a whole lot of APIs that are all over the place," SmartBear CEO Frank Roe said in an interview following the Aug. 22 purchase. "How are we going to manage them? How are we going to leverage them? How are we going to make sure that they're working?"
The Vista Equity Partners LLC and Francisco Partners Management LLC portfolio company already had a presence in APIs, as well as products for application testing, monitoring, observability and other functions. The Stoplight acquisition — its ninth in less than five years — brings new ways to serve clients in a competitive software development lifecycle market.
"We'll continue to build products and continue to acquire companies," Roe said. "We've got a healthy pipeline of companies that we're talking to."
As SmartBear targets more peers, it will have competition. The broader field of software development life cycle technology has been a hotspot for deals, with sponsors such as TPG Inc., TA Associates Inc., HGGC LLC, Partners Group AG and Insight Partners striking deals.
SmartBear has 32,000 customers and 850 employees in 14 offices throughout the world.
The Somerville, Mass. company doesn't report financials, but expects to generate about $250 million in 2023 revenue. Roe said SmartBear exceeds the rule of 40, a tech-sector guideline stating that a software company's top line growth plus Ebitda margin should exceed 40. Roe said SmartBear consistently scores in the high fifties to 60 range. "That's a healthy balance of top-line growth and Ebitda," he said.
Stoplight is strong in design-first API development, an approach in which development teams start with an iterative, descriptive design of what the API will do. By contrast, code-first approaches, as the name suggests, begin with code. Though parties didn't disclose terms, Roe described the purchase as a tuck-in, which typically fall between $5 million and $50 million.
"Often a company like Stoplight has a vision and they've made a very conscious decision that they've gone as far as they can," Roe said. "Now they want to be part of something bigger to accomplish that vision."
By comparison, acquisitions that take SmartBear into a new market tend to exceed $50 million.
"It gets us right into that market, and we can build and buy around it," Roe said.
For example, the 2021 purchase of BugSnag Inc. brought SmartBear into the developer observability market, which includes services such as monitoring application performance, stability and errors. SmartBear developed and released a new observability product called real user monitoring, or RUM, earlier this year. The company also acquired Aspecto in March to expand its monitoring offerings.
Capital Development Tools
A number of sponsors have caught the software development bug.
Editor's note: The original version of this article was published earlier on The Deal's premium subscription website. For access, log in to TheDeal.com or use the form below to request a free trial.
This Content is Only for The Deal Subscribers
The Deal provides actionable, intraday coverage of mergers, acquisitions and all other changes in corporate control to institutional investors, private equity, hedge funds and the firms that serve them.
If you're already a subscriber, log in to view this article here.
More From Mergers & Acquisitions
Mergers & Acquisitions
By Tom Terrarosa
|
Published: September 20th, 2023
The company is looking to sell its Helmitin business, The Deal has learned.
Mergers & Acquisitions
By The Deal Contributors
|
Published: September 11th, 2023
Baker McKenzie's Lawrence Lee and Coinbase's Victoria Wong discuss how a volatile market and intensifying regulatory landscape is affecting M&A activity within a fast-growing cryptocurrency sector.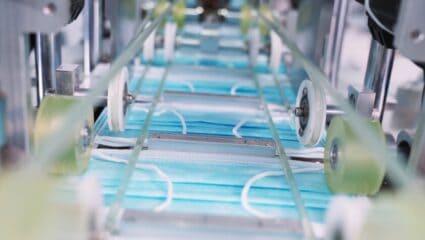 Mergers & Acquisitions
By The Deal Staff
|
Published: September 8th, 2023
The manufacturer of plastics packaging and engineered materials has launched a strategic review of its nonwoven fabrics business, which The Deal revealed it was considering selling in July.